How to connect RX and TX
There's sometimes a confusion, because the TX pin of the ULRS must be connected to the RX of the FTDI, and vice-versa. This is normal, for serial connection the RX pin of anything has to be connected on the TX pin of something else.
But to make it clear, you must connect the FTDI adapter pin to pin to the OrangeRX serial connector, without any crossing cable. The Wolfbox modules do have a different pinout, which is described here.
Alternative color code
Some FTDI use an alternative color code described below :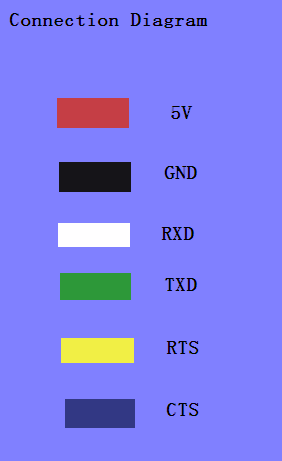 The DTR or RTS signal
Notice the important pin marked DTR on the ULRS : this is used during programming, and causes a reset that will put the module in bootloader mode.
On the alternative color FTDI cable described above, use the RTS signal in place of the DTR signal (which isn't available).
The CTS signal
The CTS pin is not needed for ULRS.
Flashing a Wolfbox 1W module
The Wolfbox modules have a non-standard connector for FTDI.
Be careful to connect the correct pins (DTR, RX, TX, GND), taking care of crossing the RX and TX as usual.